http://www.autohistorycenter.com/ohio-automotive-history.html
Ohio Automotive Heritage

(TM)
Over the years, Ohio was home to over 100 different automobile manufactures, with over 50 different automobiles built in Cleveland alone. Ohio also has a strong claim for being the true home of America's first gasoline powered automobile. In 1891 John W. Lambert of Union City, Ohio built and successfully drove a 3-wheeled automobile. While the Duryea brothers are recognized by the Smithsonian as being the first to build an automobile in the United States, it's hard to overlook Lambert's previous effort in the Buckeye state.

Later Lambert would move to Indiana where he built his friction drive cars until 1918. Lambert products included cars, trucks, fire engines, and tractors. During World War 1 the company converted its factory for national defense, among other things producing artillery shells. There is much more to the history of the Lambert automobile, and The Center for Automotive History will soon retell its true story complete with newly discovered information, photos, and details. J.W. Lambert – father of Ohio's first automobile.
---
1906 Lambert Touring Car
It doesn't look like much too much is going on in downtown Amherst, Ohio on a long ago sunny summer's day. Never the less the proud owner of a brand new 1906 Lambert Touring Car has strategically parked his prized new ride for all to see.
The Lambert automobile story begins in Union City, Ohio, a town that literally straddles the Ohio Indiana state line. In fact, the town is divided by an aptly name thoroughfare, the Ohio-Indiana State Line Road. This somewhat spilt personality led to an interesting problem for Union City in the years Indiana did not observe Daylight Savings Time. You could literally have one foot in one time zone and the other foot in another time zone without leaving town! The Lambert automobile story shifts to Indiana and will be continued in the Center's Indiana Automotive Heritage Series

(TM)

.
---
---
http://www.american-automobiles.com/Lambert-1891.html
The 1891 Lambert Automobile & The Buckeye Mfg. Co.
1891 Lambert
The Buckeye Mfg. Co.
Ohio City, Ohio
1891

John William Lambert made a three wheeled car in Ohio City, Ohio in 1891. This car is generally considered the first gasoline powered American Automobile made in the United States. John Lambert's interest in automobiles began in 1875 when his father George Lambert who was a farmer took him to a tannery to see an Otto gas engine that ran without a boiler.
Steam powered engines were very popular and well known in the late 1800's, but gasoline engine were only experimental. The gas engine lingered in John Lambert's mind and he made many plans for steam and gas driven wagons. In 1891 at the age of only 30, John Lambert began construction of a gasoline powered automobile. Lambert designed a three cylinder horizontal four cycle water cooled engine that operated on gasoline.

1891 Lambert Three Wheeler

The final drive to the rear wheels was by two chains to a counter shaft. A friction clutch selection with chain to a solid axle had two speeds forward and no reverse.

Lambert's tricycle had a single front wheel that was steered by a double foot tiller. A hand tiller was added at a later date. America's first gasoline powered automobile weighed in at only 585 pounds, had wooden wheels and steel tires. The carburetor was patented by John W. Lambert in 1902.

The Lambert three wheeler was on the road by 1902, ran well and was considered a great sucess. The tricycle cost Lambert $3200.00 to build and he had several offers to purchase America's first Automobile.
Automobile building was not at once begun by John Lambert. Lambert began builting gas engines in 1893 as the Buckeye Mfg Company with a factory at Anderson, IN. Over 6,000 Lambert gas engines were made and sold up to 1905. Later these engines were produced by the Lambert Gas and Gasoline Engine Company also located in Anderson, IN.
| | |
| --- | --- |
| 1902 Union Automobile | 1912 Lambert Touring Car |
In 1902 John W. Lambert produced his first mass produced American Automobile in Union, IN. Called the Union this automobile was assembled in Union, IN from components made in Anderson, IN by The Buckeye Mfg Company.
In 1905 all production moved to Anderson where it gave way to new models carrying John Lamberts own name. The very first Lambert automobiles were sold on June 1, 1905. By 1906 a wide variety of chain driven automobiles were made, all with a efficient Friction Drive.
1908 Lambert – Buckeye Mfg. Co. Anderson, IN
http://www.allcarindex.com/main-index/car-make-details/United-States-Lambert/
photo gallery:
https://www.autoworldmuseum.com/1909-lambert-model-a1.html
Fulton, Missouri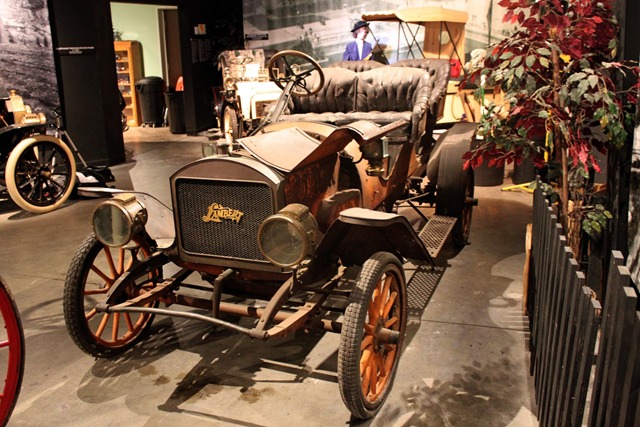 This 1909 Lambert Model A1 is a four passenger, Surrey version with a 2 cylinder engine that developed 20 Hp. It sits on a shorter, 95 inch wheelbase and had a factory price of $875.
In 1906, the Union was phased out and Lambert introduced the first of a very successful line called the Lambert. The 2 cylinder Lamberts were virtually the Union renamed but he also marketed a 5 passenger Tonneau body Model7/8 that featured a four cylinder, 34 hp, engine, on a 98 inch wheel base, with friction speed change and bevel gear drive to a divided rear axle. The price for the Model 8 including mats, horn, tools and five lamps was $3000.
Still wanting to market a successful car, Lambert built another car in 1898 but it, too, failed to be manufactured. Finally, in 1902, he formed the Union Automobile Company to produce his gearless, friction-drive, rear-engine automobile. Completing his design in 1897, Lambert pioneered the friction-drive transmission.  The friction-drive transmission would be the feature of all of Lambert's cars. This car was the Union. 
In 1891, when he test-drove his self-designed, three-wheeled, surrey-topped, gasoline-powered runabout, John Lambert was the owner of a grain elevator, lumber yard and hardware store in Ohio City. Despite the mechanical success, the car was a marketing failure. Priced at $550, no one bought his vehicle. Feeling discouraged, Lambert then turned his attention to the manufacture of stationary gasoline engines, organizing the Buckeye Manufacturing Company, in Anderson, IN for that purpose.
1909 Lambert Model A
http://www.vintagecartalk.com/archives/history-lesson-who-built-the-first-american-car/
Nope, not Henry Ford. He invented the assembly line.
If you're into classic cars, you might be tempted to say that it was the Duryea brothers, but that's wrong too. The first working car to be designed and constructed in America was built by a man named John Lambert, all the way back in 1891.
13 years earlier, John's father had taken him to see an Otto Stationary Engine that was being used by a tannery several towns away. Upon learning of the European Otto internal combustion engines, John had become fascinated with all things mechanical. Otto engines were massive things used mostly used by factories, and they ran on coal oil, which was a common fuel used for street lamps and heating.
Unfortunately for John, the factory had burned to the ground the night before their arrival. But that didn't stop young Mr. Lambert's curiosity. He sifted through the wreckage to find that huge Otto engine, then he disassembled it to learn how it worked.
Years later, he wound up owning most of Ohio City, Ohio, including the town opera house, the feed store, a grain elevator, and the lumber yard. Needless to say, he had amassed the money to indulge his passions. The 1888 Benz Patent Motorwagen had reminded him of that charred Otto engine, so he finally decided to build a horseless carriage of his own.
Using his wealth and connections, Lambert discovered that a man named John Hicks had applied for a patent on an internal combustion engine that ran on gasoline. At the time, gasoline was just a byproduct of coal gas, and was sold by pharmacies as a household cleaner. The nearest pharmacy to Ohio City that sold it was far away in Cleveland, so much of the initial development was done there.
The engine and body of the car were then shipped back to a machine shop that Lambert owned in Ohio City. Under the cover of night, Lambert's team got the car running, and road tested it through the streets. When it was finally complete, the Buckeye Gasoline Buggy cost Lambert the modern equivalent of $90,000 to develop.
Although it was a good design, nobody in the rural state of Ohio had even heard of a gas-powered automobile in 1890, and not one single copy of Lambert's car was ever sold.
Three years later, the Duryea brother's 1893 Ladies Pheaton became the country's first commercially viable motorcar. Henry Ford invented the assembly line in 1908, effectively crowning himself king of the car business. And John Lambert? Well, he sold his town and moved to Indiana where he started the Union Automobile Company. Over 300 Union cars were sold between 1902-1905. The name of the company was then changed to Lambert, and the company remained in business until 1916.
http://www.earlyamericanautomobiles.com/americanautomobiles7d.htm
Lambert
John Lambert, owner of a lumber yard, grain elevator, and hardware store in Ohio City, Ohio,   made what is recognized as the first gasoline model automobile in this country in 1890. He tested it for some time before he had made sales brochures in 1891 showing it with a price tag of $550. With no sales forth coming, he decided to build stationary gasoline engines at his Buckeye Mfg. Company Co. in Anderson, IN.
John Lambert's 1891 Buckeye Gasoline Buggy, Actual Photograph
Once again in 1895, he announced that he was entering into production of his 1891 model, but he never did. He devised a friction transmisssion that he used in all of his cars. His next car was a four wheel model in 1898, but he did not put it into production.
1902 Union Runabout
However,   in 1902, he introduced his Union automobile that was made in Union City, IN. Most of the components were made in his Buckeye factory in Anderson and in 1905, he moved his production to Anderson.  The 1905 models were renamed to Lambert.
The pictures below were cut from the 1905 September Horseless Age Magazine
1906 Lambert Touring
The 1906 Lambert models were totally redesigned.
1906 Lambert Runabout
1906 Lambert Delivery Wagon
1906 Lambert Automobile Advertisement
1910 Lambert Touring
From 1906 through 1915, the company made an average of two hundred a year. In 1916, the number dropped to one hundred and in 1917, the company entered the war effort and never made any cars after that.
http://www.jalopyjournal.com/forum/threads/we-all-love-a-dare-pix-of-truly-extinct-makes.397594/page-116